This little girl is a very special little girl.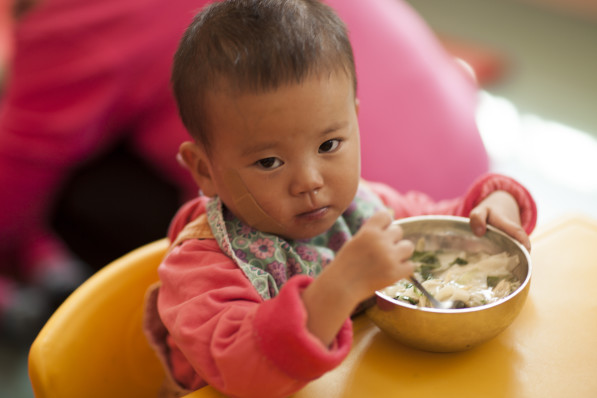 Look at those eyes warning me to not even think about helping to feed her because she's got it totally under control. And, she did…though it tended to look more like this.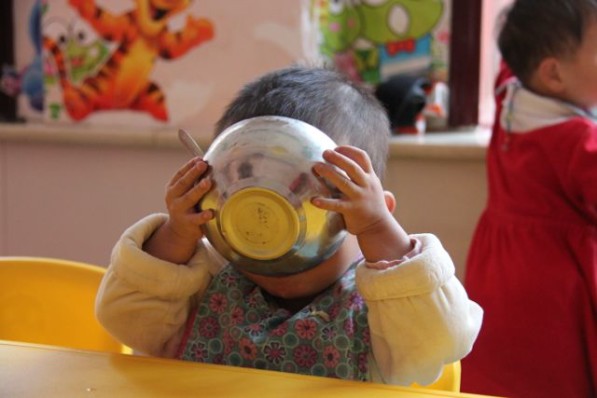 When I was leading the team in October to serve at "an orphanage in Shaanxi" where part of my heart remains, I shared a special moment with this sweet one, telling her a family was coming for her and showing her their pictures. I know she didn't really get it; but, her ayis sure did. And, their smiles were big as they watched the moment happen.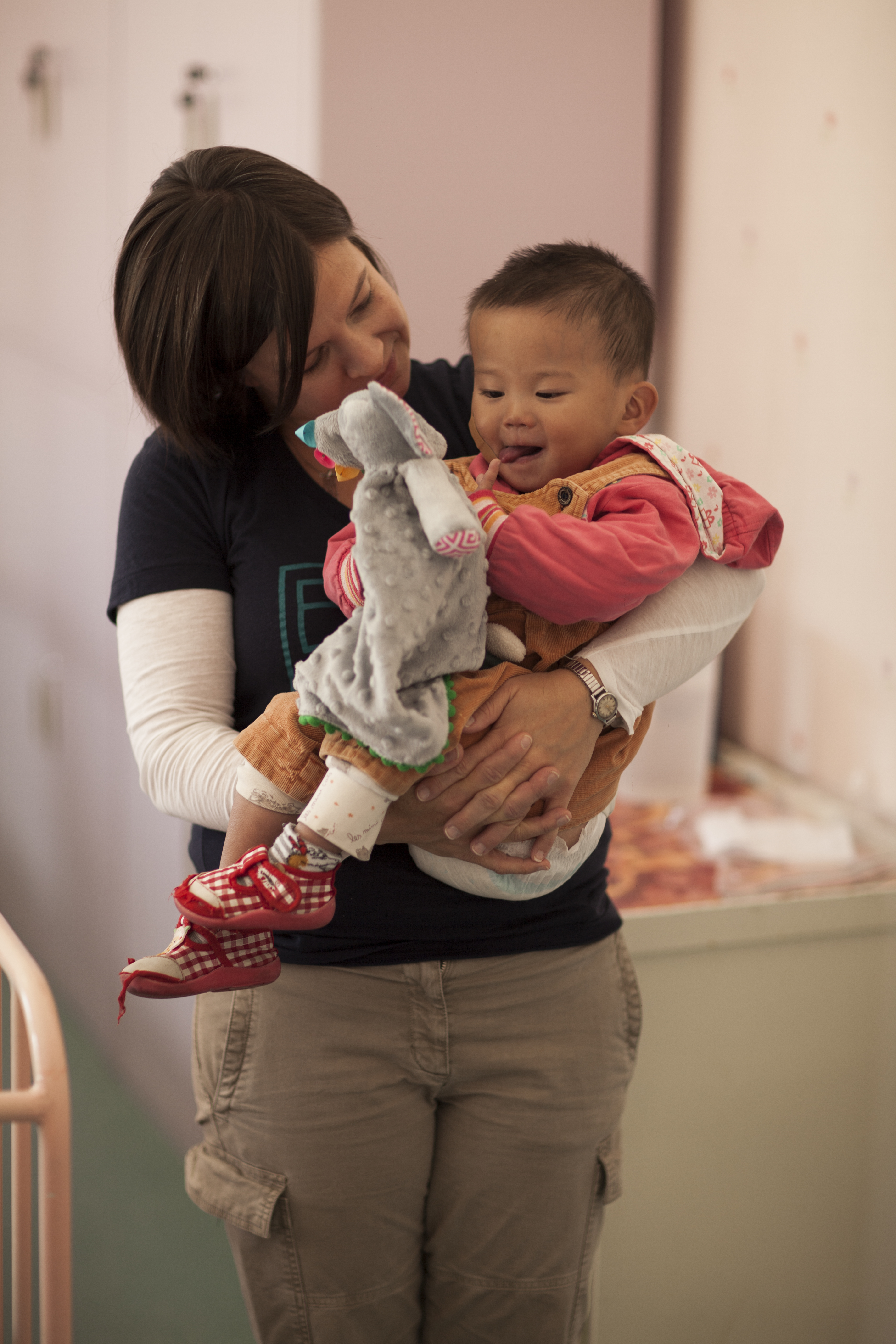 A couple months later, her family came for her. Her life…their lives…forever changed…as they said yes to making this little girl their daughter, a little girl who they knew had a very sick heart.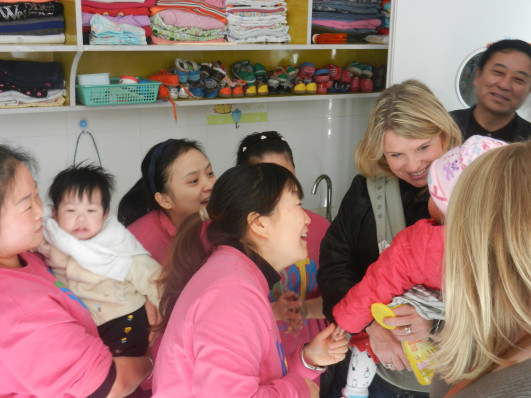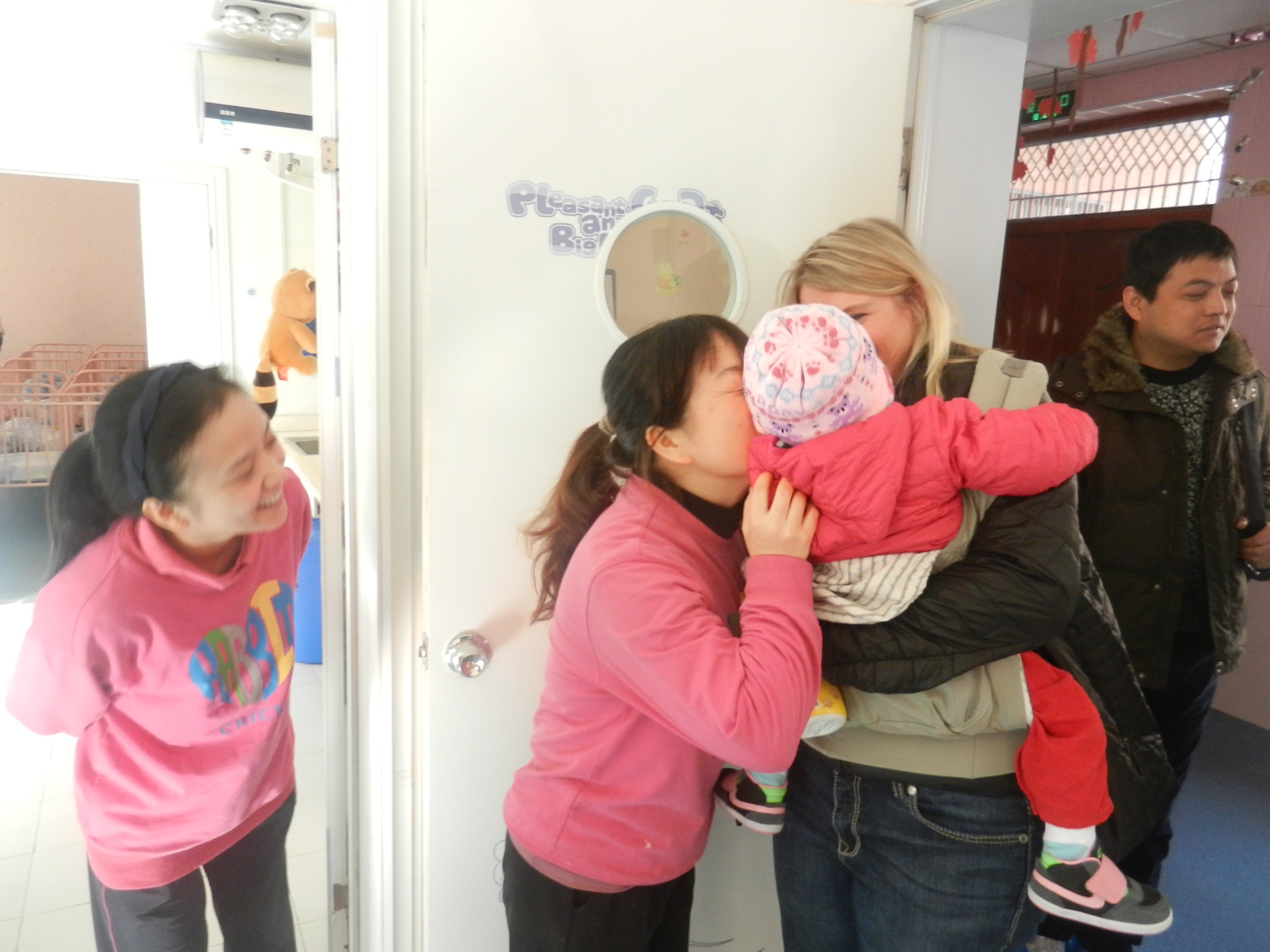 Two days ago, they took their daughter to the cardiologist for testing. The echo the doctors started with gave them all the information they needed—she actually has what is called tetralogy of fallot, a rare heart condition caused by a combination of four congenital heart defects. In the United States, surgery would have been done on her heart before one year of age for the best prognosis. But, this sweet little girl is now 2 1/2 years old. The doctors admitted her immediately and prepped her for open heart surgery. Today, that surgery is happening.
Please pray.
Pray for a full repair. For heart healing in every way, that she would wake up from surgery with little pain and that she would feel comforted by the mother and father beside her. Pray for that mommy and daddy, that God would use the experience of the waiting room and sitting by her bedside to grow their love for her and confirm to them that they are indeed the mother and father that she needs.
Surgery started at 9:30am this morning. At 11:30, the surgeons called her waiting parents to say things were going well and they were about 1/2 way through. They are expecting her to be out of surgery at about 1:30pm EST.
I have posted these reviews before. But, since Spring Festival happens every year (It's February 19th, this year), I decided maybe this post should too.
I've scoured websites and bookshelves for every Chinese New Year/Spring Festival themed kids' book around to read to our clan in anticipation of the holiday. We found some good ones and some not so good ones.
Overthinker that I am, I hope my musings help you decide which ones are worthwhile for your clan.
No Year of the Cat from Sleeping Bear Press is a familiar folk story about the 12 animals of the Chinese zodiac and why there is no cat among them. It all starts with the emperor needing a way to remember time, when things happened, most notably the year the prince was born. His idea to name the years after animals results in a race with the winning animals making it into the ranks of becoming legacies in the calendar. Cute story and really beautiful illustrations.
Chelsea's Chinese New Year explains Chinese New Year for the younger set. I love the size of it–a nice big paperback book (about a 9 1/2″ square) with big ole illustrations very similar in style to the Disney Channel's Charlie and Lola. The main character, little Chelsea, explains how her Chinese American family celebrate Chinese New Year, touching on all the traditions either in the text or illustrations. Each page has a little section that gives additional information about the holiday that you can choose to read or skip over to just keep it a story. This one would be great to use in a classroom to read aloud to a group of preschoolers or kindergarteners.
Marcia Vaughan's The Dancing Dragon has simplistic text about how Chinese New Year is celebrated in Chinatown. But, what makes this book worthwhile is that the pages all unfold accordion style to reveal the illustration of a long dragon from the parade. Good one to read to a classroom of kids since you could have a child hold each page as it unfolds. Just wish the book was a little larger in size–at 9″x7.5″, a couple more inches would make it much better for classroom use.
Another preschool friendly one, Joan Holub's Dragon Dance: A Chinese New Year Lift-the-Flap Book is a popular one. Each page has 4 lines of simple text in a classic ABCB rhyming pattern (hope that's right…trying to remember 7th grade English class) with good sized flaps to open to reveal some part of the New Year celebration, supposedly one in New York City's Chinatown (though it wouldn't have to be). Colorful and bold illustrations include little "extras" you can point out–the significance of the flowers, the oranges, and the super long noodles. Only complaint? The last flap ends with "Gung Hat Fat Choy!" in big ole print which is Cantonese rather than the Mandarin "Xin Nian Kuai Le!" New Year's greeting – something that really bothered my Mandaring-learning 7 year old.
Despite mediocre illustrations, Bella and the Year of the Dragon is the best book I could find explaining the fable behind all the animals of the Chinese zodiac and their race to the emperor to determine what order they would come in for the years of the Chinese lunar calendar. And, believe me, I read a bunch that were not even worthy of a review. This one, however, does a good job explaining the fable simply but in an interesting way.
Though I'm not a big fan of the illustrations in Ying Chang Compestine's The Runaway Rice Cake, I appreciate the message. The Chang family makes one rice cake with the last bit of their rice flour for their whole family of 5 to eat for Chinese New Year. In gingerbread man fashion, the rice cake comes alive and runs away, showing you elements of the New Year celebration as they chase it. When the rice cake runs into a poor and hungry elderly woman, "the rice cake stopped trying to escape" and surrenders itself to be eaten. The children are sad that their last food is gone, but they return home to an abundance, much more than they could have imagined, to their happiest New Year's Eve ever. Some kids might find the anthropomorphized rice cake's surrender to be eaten a bit sad (or disturbing?), but the overall message of giving generously and receiving blessings, sometimes tangible ones right away and sometimes ones we may not recognize so easily, makes this book a worthwhile family read.
Ying Chang Compestine wrote another runaway book – The Runaway Wok: A Chinese New Year Tale. These illustrations are way more my style–bright, funky, fun, filling the pages with color. The story is a silly fable that is sort of a mix of Jack and the Beanstalk, Ebenezer Scrooge, and the Gingerbread Man, Chinese style. My kids thought it was hilarious and were quickly repeating the catchy "skippity-hoppity-ho" line from the crazy wok. And, in addition to showing them pieces of how Chinese New Year is celebrated traditionally, it gave us the chance to talk about bigger things like sharing, justice, revenge, and mercy. This one has been read in and out of season.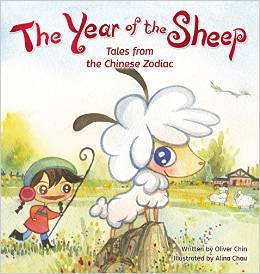 Start your own New Year tradition with this series by Oliver Chin. So far, in his Tales from the Chinese Zodiac, he's written a story book for the Dog, Ox, Pig, Rabbit, Rat, Tiger, dragon, snake, horse, and now Sheep. All are cute little stories that capture the symbolic spirit of the zodiac animal featured. Though I haven't read the new book for this year yet, they typically integrate some of the traditional characteristics believed for those born in that particular year with a fun story. Also, we love the iPad app for the year of the dragon and are hoping Immedium creates some new ones for the other years too since even our iPad likes to celebrate CNY.
Janet Wong's year 2000 This Next New Year is unique in that it shows different ethnic groups in America celebrating Chinese New Year. The little boy who is the main character is half Chinese and half Korean. The book also mentions a little boy who is French and German who celebrates the holiday with Thai food to go and a little girl who is Hopi and Mexican who calls the New Year her favorite holiday because she likes getting red envelopes from her neighbor from Singapore. With vibrant colors, the boy explains with a bit of wit and humor and spunk their traditions around the New Year including washing his hair and "drying it extra dry." A cute book for the younger set – maybe 4-7 year olds – and particularly good for pointing out that lots of different people enjoy recognizing Chinese New Year with their own little traditions.
How did I not hear of this book before? Karen Chinn's book Sam and the Lucky Money is one that engages your children in Chinese New Year traditions while teaching a lesson of contentment and generosity. Sam is excited to get his red envelopes from his grandparents for Chinese New Year filled with $4. But, when he goes to Chinatown to buy himself something special, he's frustrated that everything he wants is more than what he was given. When he sees an elderly homeless man without shoes on his feet, he gives all his money to him. I'm more of a bright, funky illustration type of person, so the soft watercolors didn't wow me like they might for some. But, the message is one that does wow me. And, it gives you the opportunity to talk to your child about what it means "to be lucky" and if there even is such a thing.
Red Eggs & Dragon Boats: Celebrating Chinese Festivals by Carol Stepanchuk is a great kids' reference book for Chinese New Year, the grave sweeping holiday (Clear Brightness–which we were in China for), red egg and ginger celebrations, the Dragon Boat Festival, and the Moon Festival. Loads of information about those holidays, fables, and other traditions are in here and explained in a way that a grade schooler can understand. The color illustrations are really pretty–made me wish they were fabrics for a cute little dress for my little one. Published in 1994, I think it's now out of print. But, you can find used copies around. And, honestly, I hope they update and reprint this one. It really is well put together.
Want a book for an older girl? You might want to check out The Chinese New Year Mystery, a classic Nancy Drew mystery. In classic Nancy Drew style, their school is getting ready for the Chinese New Year parade when the dragon is stolen. Nancy Drew (you can't just call her Nancy) has to figure out who stole the dragon so that the parade can go on. Traditions of the Chinese New Year are described as one of Nancy's friends, Mari Cheng, is Chinese American. There's a little bit of interesting drama too as a few girls mouth off about Chinese New Year being "stupid." Hmmm…could lead to some interesting conversations.
Another one I really like is Cheng Hou-tien's The Chinese New Year. We got it from the library since it's an old book and hard to find. The book explains Chinese New Year traditions with the only illustrations being black colored paper cuttings on a white background which is so beautiful actually. May not wow your little ones as much since it isn't bright and eye catching, but the art of scissor cutting in China just fascinates me. And, aren't black and white designs supposed to be good for babies to look at? I'm sure it will make your child ions smarter.
I also came across this pack of resources for the classroom which could be a great help if you are visiting your child's classroom to celebrate Spring Festival or if you are hosting a little party.
There are a few others yet I'd like to check out – Celebrating Chinese New Year: An Activity Book since we're into activity books, A to Z Mysteries Super Edition #5: The New Year Dragon Dilemma which looks like a boy might enjoy it too (my boys just won't read Nancy Drew), and Lucky New Year! Board book even though we have graduated from board books, the pop up feature in this one looks super cool. Some others have recommended Great Race, The Paper Dragon, and Long-Long's New Year: A Story About the Chinese Spring Festival. But, I haven't gotten my hands on those yet.
Any others you think I should add to our Chinese New Year library?
I never thought seating 6 people for an evening meal would be such a challenge. But, it is. And, it's not something I can check off my to-do list and let out a sigh of relief that it's done. Perhaps the most challenging part of sitting down together as a family for dinner is that it happens everyday.
Helen and Caleb are not nearly as challenging to corral as my clan. But, their presence at our table everyday has presented a new challenge—who is going to pray?
Before even all our seated, Caleb starts…
I'm going to pray!
I've learned the response I need to give immediately.
Wait. Wait. Not everyone is ready. Ashlyn's getting her drink, and Drew's still washing his hands. Hold on, please. You can't pray until everyone's here.
Then, Lydia starts.
No! I'm going to pray!
How about you both pray?
I'm first!
No, I'm first!
I'm certain this is not what Jesus meant when He told His disciples to be persistent in prayer.
Two mothers start dishing out words instead of noodles—one in English, one in Mandarin. Caleb starts crying. Lydia bangs her fist on the table with her face all scrunched up. And, I start wondering if we aren't fit to pray at all or if we should spend the rest of the night in prayer!
That's it. Caleb goes first and then Lydia. Tears supernaturally stop, and Lydia crosses her arms in protest.
Lord Jesus, thank you for our food. Thank you for our friends. Thank you for our house. Thank you for Mom and Dad. Thank you for your love. Thank you for Jesus. Amen.
Okay, no one move. Lydia's turn. Lydia?
wait for it…wait for it…slowly…
Dear God, thank you for our day. I hope everyone enjoys their dinner. Amen.
Phew. There's the sigh of relief I was looking for. Done.
Sort of…
No fair! My prayer was like 1 minute, and Caleb's prayer was like 1 hour!
Oh, Lord, teach us to pray…and teach me to accept the increasing number of gray hairs that prayer-givers under 3 feet tall are giving me.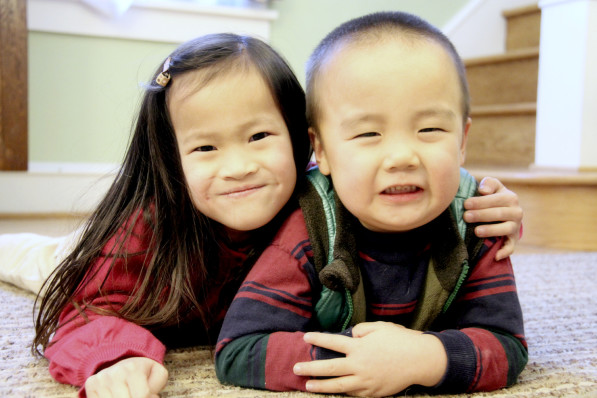 (This couple who adamantly offers that they are going to marry needs to learn some better conflict resolution before tying the knot. #workcutoutforus)