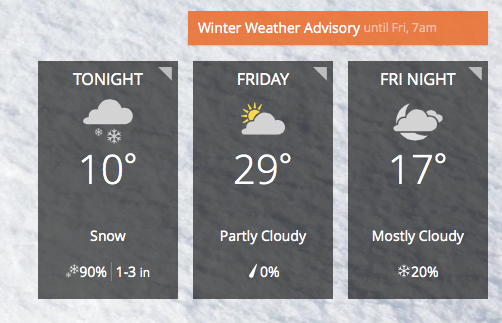 Yeah, we're not headed to Orlando.
And, while that would be awesome, this weekend is still going to be awesome…even with those temperatures.
We have the pleasure of heading out to Grand Rapids, Michigan (Yes, I spelled that out because I couldn't remember the abbreviation). And, we couldn't be more excited. Mark has the honor of speaking at the annual Adoption Associates gala (because he's a rockstar and totally awesome). I get to wear a pretty new dress that my mom and dad bought for me and cheer him on while I sit among the hundreds of guests there. So excited. Would it be totally inappropro to hold up poster board that says "I love that man" or "I'm with HIM!" Probably. My nice dress and big smile will have to suffice.
AND, we get to spend a few hours at Calvin College tomorrow to talk to students about China. AND, we get to spend time with dear friends and meet their daughters in person finally. AND, we get to stay at a bed and breakfast that has a fireplace in our room apparently (#spoiled). AND, we get to share at a church Sunday morning for a few minutes.
I can't imagine a better way to start Thanksgiving week.
Bring on the winter weather. We'll be on the red eye out to you, Grand Rapids, Michigan.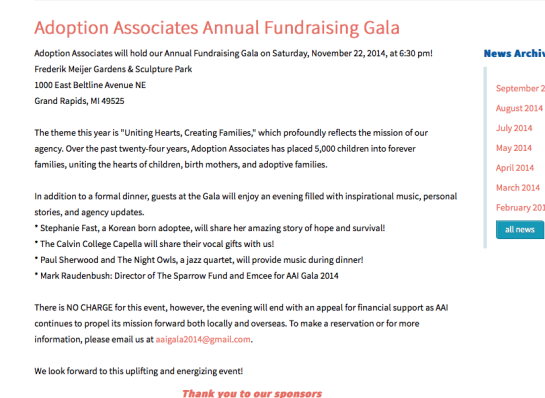 Everything is interesting in our house.
The trail that airplanes leave behind them in the sky.
Carseats.
Pretzels (a Philadelphian food group).
Coffee every morning (a Kelly Raudenbush food group).
Red and yellow Autumn leaves.
Lunches on the go.
Big yellow school buses.
The dishwasher.
Heat we can control.
Over the last couple years, I have spent a lot of time writing about things that are interesting to me about China as we have traveled back and forth, led teams of people there, and fallen in love with this far away place. But over the last two weeks, I have been consumed with all the things interesting right here around me as we watch our friends experience them for the first time.
Our guest room is no longer a guest room; it's Helen's room. She has a towel with her name on it hanging on the back of the door. Her books are on the nightstand. And, she's posted the children's library schedule on her wall. It's no longer a sterile room that we quickly put together with second-hand finds; it's full of color and personality and activity, especially since we haven't been able to convince 3 year old Caleb to transition off her floor to the bottom bunk in Drew's room.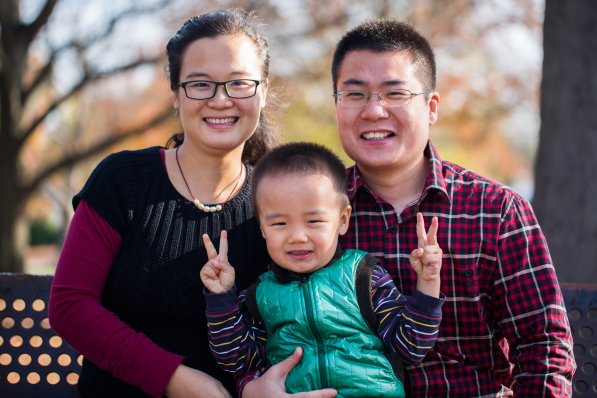 Our friends and coworkers arrived from China nearly two weeks ago, needing a safe place to live as her belly grows for the second time. They weren't safe where they were since they are from the most conservative province in China when it comes to second children. They may have been okay; but no one was willing to take that risk. Maybe safe isn't good enough when we're talking about life. We were excited to have them, but I confess we thought it might be challenging. But, so far, despite our one full bathroom and outdated kitchen, it's been a blessing.
The piano I had to have that not a single person in our family plays has been filling our home with Chinese hymns. Our children have been running home from school to play with the little boy who has taken over all the toys they sort of forgot about over the years. I've had a friend beside me stirring dishes on the stove. And, we've been lingering at the dinner table longer in the evening as we continue conversation.
Evan voluntarily joined me for one of my many recent trips to the grocery store. He didn't sigh or complain when I had to return to the back of the store because I forgot something. He stood in line with a smile and pushed the cart for the entire trip while I twitted about filling it. Caleb had come with us; that's why. When we turned left onto our street and our house came into view, Caleb yelled loudly from his "special seat with buckles" in the back, "I see my home! There is my home!"
This is our home for now. Busy, noisy, crowded, and joyful, new, and safe with a whole lot of great smelling food and lots of "interesting."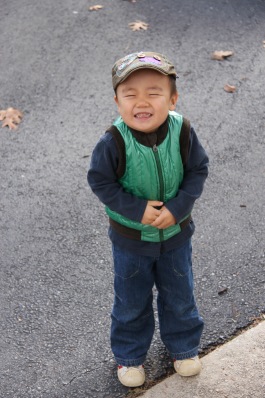 Dare to watch. Dare to get a glimpse of people on the other side of the world whose stories we've only just gotten glimpses of ourselves, children and students and adults who hold our hearts.
Be ready.
You're going to want to go and enter in.
And, we'd love to have you.
I met her in March, a shy little girl with beautiful braids someone painstakingly created each morning.
Find her a family. She's very clever.
She sang me a song, recited a poem, and did math problems aloud at her ayi's command. Her presentation ended in a stream of tears, her sweet spirit anxious at having to perform and prove her cleverness for a foreigner. I took noted and promised I'd try. But, by the end of the week, a scurry and buzz among the working staff at my mention of her name revealed that they had just learned that day she had a family afterall.
Four months later, I got a message in my inbox:
When you were serving at the orphanage, did you happen to meet this little girl?
Instead of me finding a family for HY, her family had found me. We spoke on the phone, and I talked until my throat was sore, sharing all I could about their sweet little sparrow and the place that was her home. They thanked me over and over and said I was blessing them. I went to bed happy that night feeling like all was well with the world.
When I returned a few months later, last month, I brought something with me, a special delivery made out of photos and paper that I carried like it was precious treasure. This time, instead of HY giving me a presentation, I had a presentation of my own for her.
On Tuesday afternoon, I pulled that treasure out of my bag and with trembling hands and voice handed it to my dear friend.
Mama. Baba. Jie Jie. Jie Jie. Ge Ge. Di Di.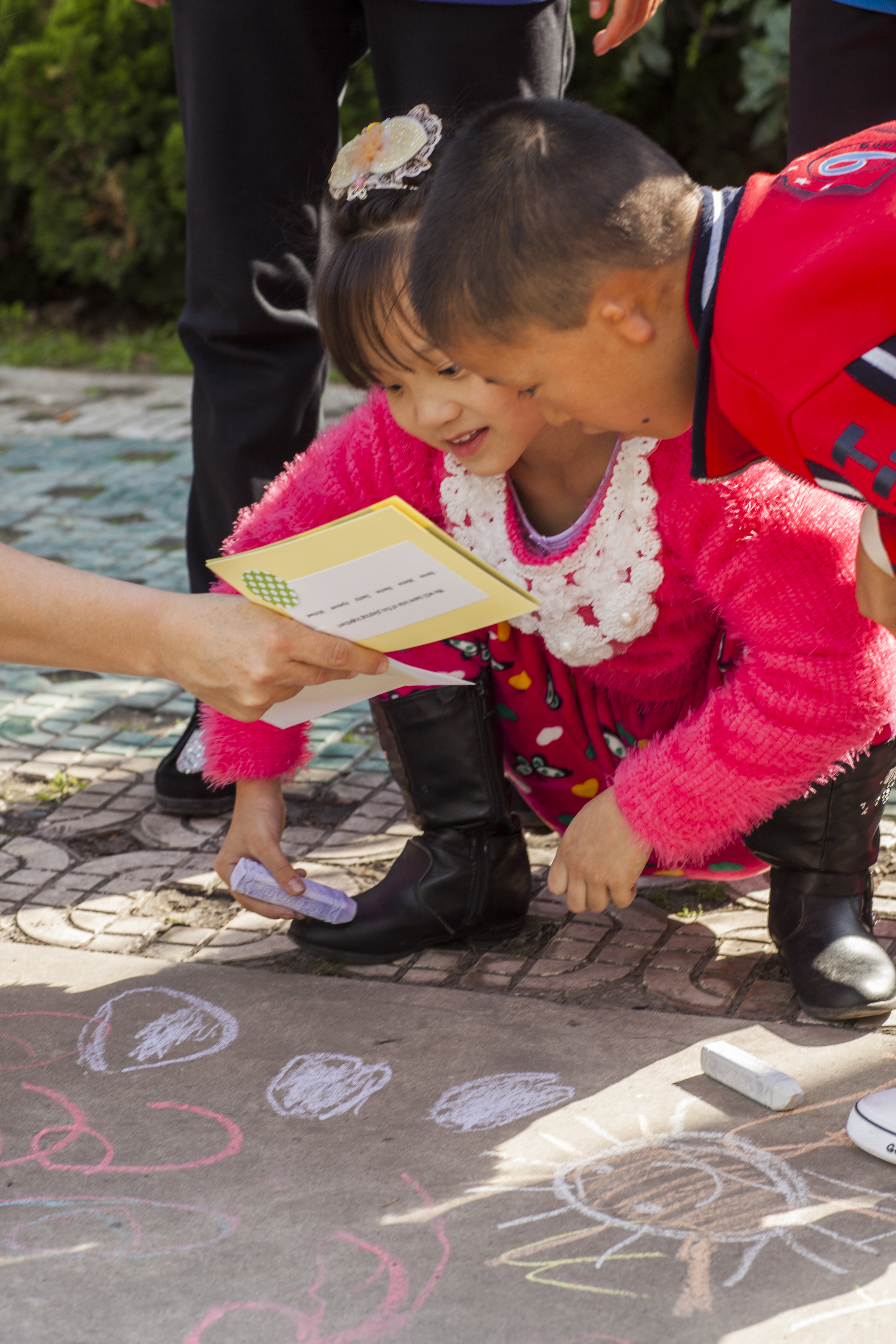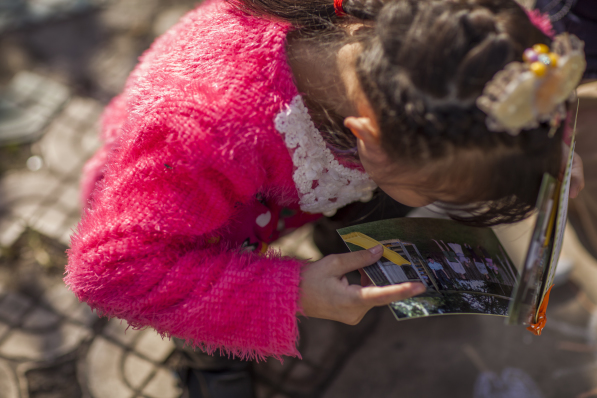 Her eyes got big as she pulled the photos close. Her first reaction of quiet turned into words, and she echoed me.
Mama. Baba. Jie Jie. Jie Jie. Ge Ge. Di Di.
and again.
Mama. Baba. Jie Jie. Jie Jie. Ge Ge. Di Di.
She smile a smile like none I had ever seen before and looked up at her ayi and said:
I miss my Mama.
She owned the moment and breathed in the joy herself at the realization that her family was coming for her.
Lucy Joy. Your name is Lucy.
The same buzz and scurrying I had seen in March ensued and I could her her name repeated over and over as if in an angelic chorus. Lucy. Lucy. Lucy. 
And, then she said it herself.
Lucy.
Her spirit sighed as her very breath formed the word of her name—Lucy. 
It was now her turn to scurry and flutter around, showing giggling staff and admiring friends her new family and telling them her name—Lucy! Lucy! Lucy! 
They shared her celebration with thumbs up and pats on the back. Children still waiting jumped up and down for her. Children who would never have that moment themselves hugged her and told her how beautiful her mother was.
It was a highlight of my last trip, an experience I will never forget, one I have told my children about and one I'll tell my children's children about. It was the day I got to stand in the gap in the sacred place of transition for a little girl who was moving from an orphan with little hope of a future to a beloved daughter. It was the day God showed me a glimpse of what selfless love looks like as orphans celebrated their friend's story with genuine joy that she was no longer alone even they will remain.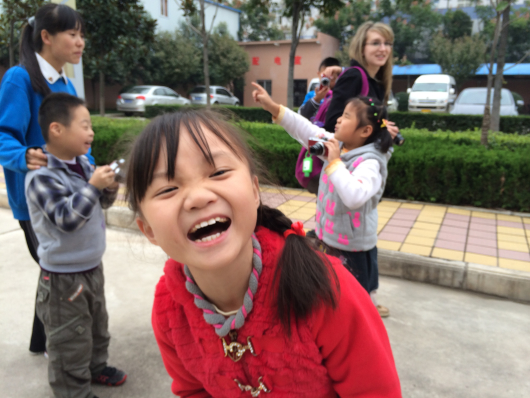 Lucy Joy. 
You're almost home, precious girl. They're coming for you.
note:
story and photos all shared with permission
from Lucy's mama.