There's a crib in my house. It's been set up for about a week now, and I still can't quite get past it. There's actually a crib in the room across the hall from my room. And, to make it even more mind boggling, soon there's going to be an itty bitty little person laying in it.
Helen's official due date is 2 weeks from today—March 18th. I told Helen she was nesting as I watched her attempt to organize her room and fold little pink things she's received as gifts. She kept going and then finally asked me what I was saying after maybe the third time I said it. Apparently, she thought I told her she was nasty. Don't worry; I assured her she was not and that she's absolutely adorable with her big round belly and the way she slowly goes up the stairs, catching her breath with nearly every step.
I made a what-to-do-when-it's-time list with all the important information (of course, I did)…and I laminated it, you know, just in case I freak out when she tells me her water broke and proceed to spit out the coffee in my mouth right onto the doctor's phone number (of course, I laminated it). The list is hanging in our kitchen prominently, a reminder all day long that our worlds are about to change, in case her belly isn't enough.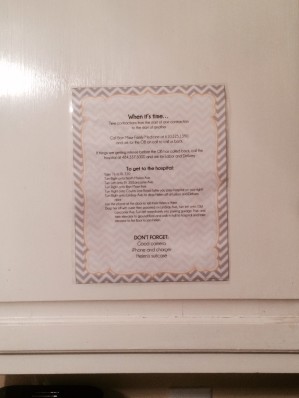 That baby has to stay put until next week though. I committed to going to a conference for adoptive moms in Atlanta this weekend before we even knew about this baby. I have offered to forego it and stay home staring at my list and Helen's tummy. But, Helen has told me to go ahead. She has no real signs of impending labor at this point, and she knows I really want to go to this. So, I'm going to go, despite another snow storm coming tomorrow (#sodonewithwinter). But, I've got a quick(ish) getaway plan in place in case of emergency (i.e., "the call" from my husband saying "we need you NOW"). And, I'm putting Helen on bedrest from tomorrow until Sunday for good measure.
Our prayer this week—no baby. Next week? Okay, Jesus, we're ready to go. Let's meet this sweet thing who has turned our worlds upside down for the last 6 months.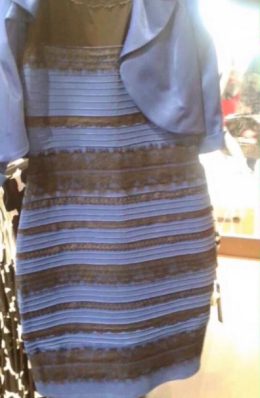 We were eating muffins at a cafe this morning when a guy approached us, held out his phone, and asked us what colors we saw.
"Um…gold and white?"
He replied, "No way! No! It's black and blue!" He walked away laughing; we sat there stumped.
We thought he was just a weirdo until Evan came home from school and showed me the same picture and asked the same question.
Apparently, this silly picture has nearly broken the Internet since yesterday. In 6 hours alone, this picture of a dress got over 16 million hits all from people arguing over what colors it is. Our own family has been duking it out this afternoon.
Experience is reality. When we see gold and white, it's gold and white; anything else couldn't possibly be. It doesn't matter that the person next to us swears it's black and blue. We just tell her she's wrong and roll our eyes when she tries to tell us the same thing.
So, what color is adoption?
The black and blue abounds. Hearts spill out via words on screens about the emotional cost, the trauma, the brokenness, the loss, the hurt, the hard starts that beget more hard. I've read them; I've wrote them. And, I confess that when I have been focused on the black and blue, it's pretty hard to see any other colors. There may have been glimpses of gold and white; a change in color for just a moment that caught my eye. But, moments later, I talked myself out of it. No, I was wrong. It's really black and blue. I must have been seeing things.
8 years into our adoption journey. 5 years into parenting a child who joined our family through adoption. 4 years into ministering to other families built via adoption. I know the black and blue; the black and blue is real and on some days seems like it can be tangibly felt. But, I know the gold and white better. And, I've seen how the gold and white is fully able to overcome the black and blue.
Adoption is family. It's redemption in loss. Adoption is hope despite the unknown. Adoption is connection and relationship. It is courage and resilience. It's beauty so intense it can be tangibly felt and breathed in. It's power to overcome. Adoption is delighting in each other. It's being intentional to focus on the gold and white even in the midst of black and blue.
It's amazing. life changing. an opportunity for healing. a blessing.
It's everyday. It's life.
It's good. 
What color is adoption?
It's gold and black, white and blue, and every shade in between. Don't even try to convince me of anything different.
I get it. There was a big crisis. In 1979, facing a huge and growing population, Chinese government officials created the "family planning policy" as the solution. Things were turned upside down as families who years before had been encouraged to build China by adding to their family were now told they could have one child only. Couples who were from minority groups were allowed two children. And, in some rural areas, a one-son, two-child rule was upheld. If those families' first-born child was a girl, they were allowed a second chance to have the boy they wanted and needed to ensure their own social security. It was the right thing for everyone; at least, that's what was promoted on posters and painted on walls in villages. It didn't take long for people to learn that violating the policy was serious business; families were fined anywhere between 3 to 10 times their annual salary as a "social compensation fee" with increased fees for multiple violations. When the billboards and fines proved not enough, officials stepped up their enforcement. Somehow horrific became normal as women with wombs growing with life were brought into makeshift surgical rooms together for forced abortions and sterilizations. It has happened. Many, many times over. I've heard the stories. I have read that through all these efforts combined, China has successfully "avoided" approximately 400 million births since 1979–400 million.
It's now 35 years later. I wonder if there are as many conference room meetings now about the family planning policy as there were in 1979. There likely may be. The effects of the policy that are apparent right now are dramatic. With needing a son and only being allowed one child, girls are simply missing. Some have said there are as many as 40 million more men than women in the 20-something age bracket in China. 40 million young women are simply missing. The disparity has opened the way to a myriad of problems–prostitution and trafficking, families selling their daughters to other families as future wives for their sons, parents demanding huge dowries including houses and cars from potential husbands to their daughters. Men who are poor, uneducated, and/or disabled simply cannot compete and will likely remain alone for life. As of right now, about 12-15% of all Chinese men will never marry and will live out their lives shamefully as bare branches in their family trees.
We've seen the family planning policy morph in recent years in response. A few years ago, couples who were both only children in their families of origin became allowed to have two children together. Then, if even one member of the couple was an only child, they were allowed to have two children together. Upholding the policy has been said to be more "relaxed" in general. And, Beijing government officials have denounced forced abortions. Just a week ago, I read a report online that there have been conversations among officials in Shanxi province about how to handle the current consequences of the last 35 years of the family planning policy that included the idea of forcing all couples in their province to have a second child now and fining them if they don't.
I don't get it.
Every night, we eat at our dining room table with both leaves extending it to the largest it can go. We don't fit around the kitchen table anymore. Eating together are five American faces and four Chinese ones, one of them my daughter forever. The other three are friends–a 4 year old boy, his father, and his mother–who are living with us for a season because it wasn't safe for them where they were were. There's a baby girl growing inside her who will be meeting the world soon. Those same forced abortions that were denounced publicly in Beijing are a reality where they are from. Only an overnight train ride from the city where officials are talking about forcing families to have second children, officials are still doing whatever they can to make sure they look like they're doing a good job for the People.
The dichotomy of the world around me is overwhelming. My head is spinning and my heart dizzy.
_________________________
Missing girls.
Astronomical fines that cripple families.
Forced abortions.
_________________________
Pink flowered onesies with tiny little bows.
The baby bib from a friend decorated with hearts
that says "Daddy's Little Sweetheart."
_________________________
Women lying quietly in surgical recovery rooms
knowing they will never give a baby life again.
_________________________
The smile of a mother hearing her baby's heartbeat.
_________________________
Officials confused by the problems surrounding them
and actually considering flipping the world upside down again
and fining the same families if they do not now have two children.
_________________________
The sisterhood between mothers.
The dimples on the sweet face of my little girl.
_________________________
Wondering if the woman who gave her life has the same dimples
and if she is somewhere today resigned to the hard reality of life
or if she's as confused as I am and thinking too
I
don't
get
it.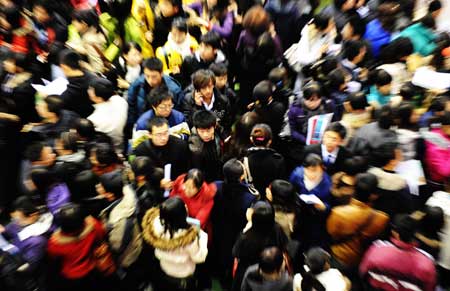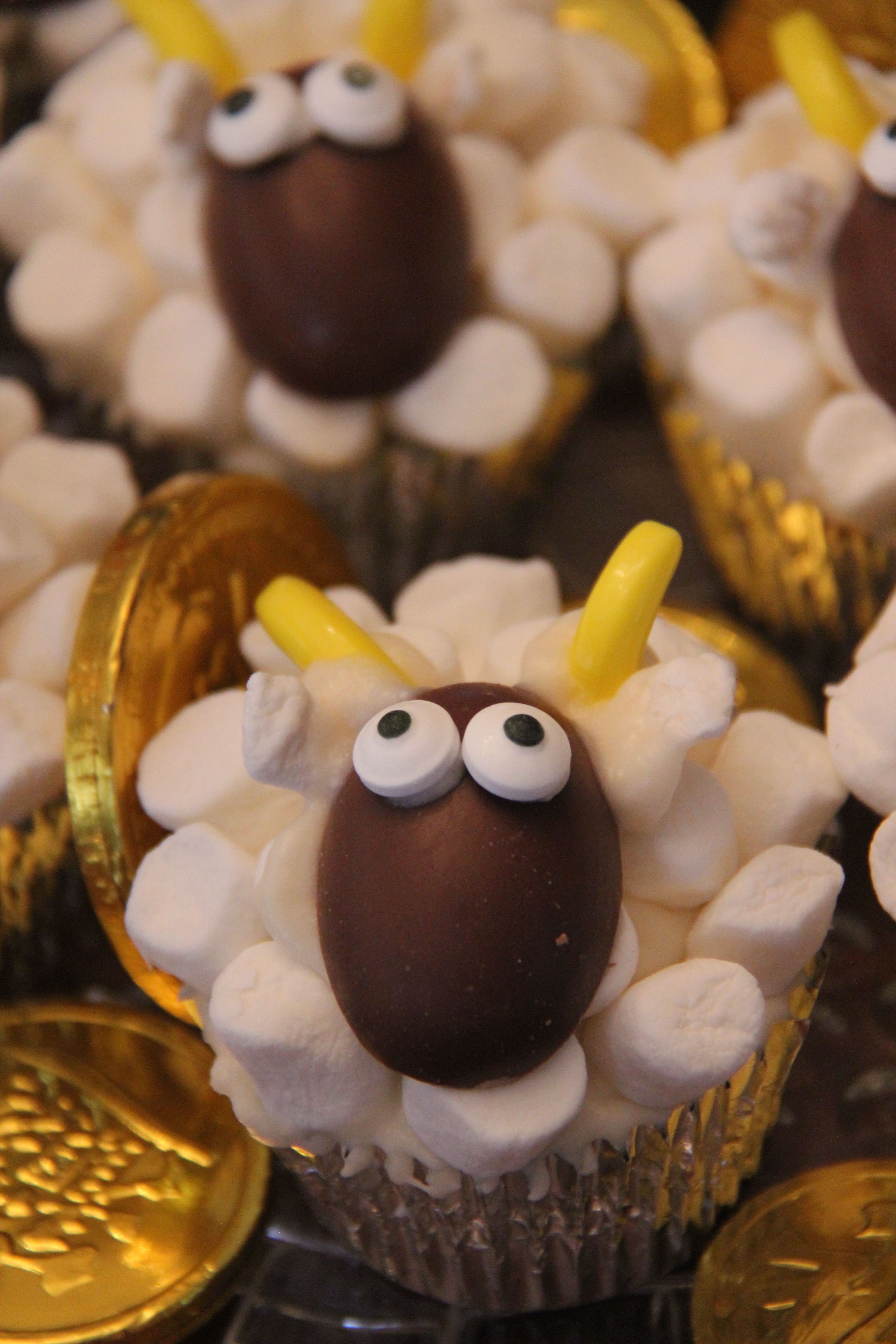 Sheep, ram, or goat…it doesn't matter so much. These cupcakes are the bomb regardless of what animal they are actually. I was so stinkin' proud of them that we're currently on our second batch this afternoon. The girls Chinese school gala on Sunday is going to have these babies at their bake sale table. And, if history proves itself, these are going to bring in some cashola.
I'll share how to make these guys in case any of you still have some Chinese New Year parties coming up…or this blog still exists in 12 years and someone happens to be searching for Spring Festival snack ideas.
I used these amazing cupcake and vanilla buttercream frosting recipes from a friend of mine. I don't even like cake but these cupcakes are life changing. They're pretty easy as far as baking goes (I'm typically a pathetic cake-mix type of gal), and they taste so good that Helen and I have been eating them plain for breakfast and justifying our actions by saying they are not any worse than a muffin.
In addition to what you need for those recipes, grab some foil cupcake liners, candy eyeballs (that's just sorta fun to say), banana runts (yes, I'm sure Wegmans loved me after I stood there for 10 minutes and got 1/4 lb of JUST the bananas out of their bulk candy), a bag of mini marshmallows, and half-egg chocolate candies. I found these super cheap chocolate-covered marshmallow candies in the bulk foods too.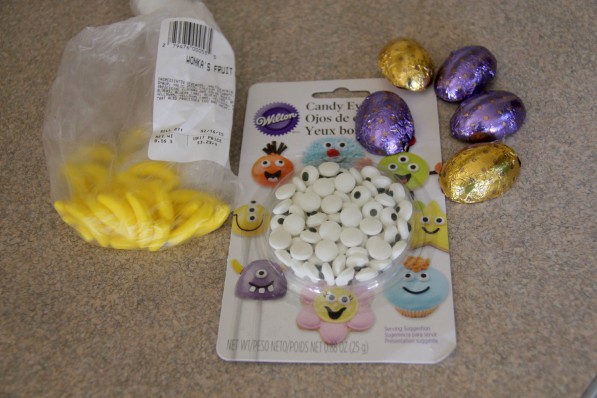 Make the cupcakes, and let cool a while. Make the icing, making sure you add enough powdered sugar to make it pretty stiff so it will work like glue for you.
Frost the cupcakes one at a time, then stick mini marshmallows all over the top until it's covered. Put icing on the back of one of the chocolates as glue and gently place it on top of the mini marshmallows toward one side to be the face. Stick two eyeballs onto the chocolate using some icing as glue. Then, dip an end of one of the runts in the icing bowl and stick it near the top of the beast's chocolate head between marshmallows so it sort of stands up. Do it again for the second horn…or whatever that is called.
That's it. Way easier than I expected and a big hit…even though most of us just took all the marshmallows off and ate everything underneath.