It's been 10 days. Early on December 7th, he left Philly for Beijing to visit, encourage, pat on the back, hug as needed, and bring a very heavy suitcase or two full of things from home. In addition to some bags of coffee and other treats that aren't easy to find on that side of the globe was literally a mountain of Christmas cards. 50 lbs of them to be exact. Our mailman has been really fond of us lately, I'm sure, as the families and supporters of these 20 teachers sent hundreds of cards to our home for Mark to pile in a bag devoted only to cards and hand deliver them.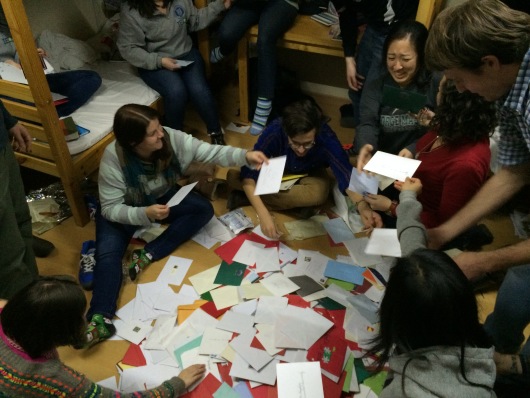 I wish I could have been there to see their faces and their tears as they opened each card and read the words written freely without any codes. While I know it's hard for them to be there and miss their families during such a special time, I know that celebrating Christmas together as a team is a celebration they will remember the rest of their lives. And, this Christmas at home, celebrating with Helen and Caleb as they are here, not all that unlike the teachers in China, separated from their husband and Daddy and larger family, is one we all will remember the rest of our lives too.
Santa is on his United sled right now, heading back to the North Pole. And, Mrs. Claus and her friend and our five little elves are counting down the hours.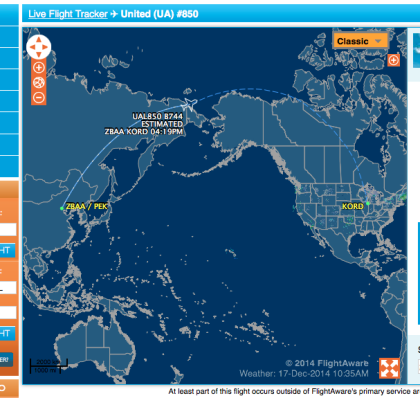 We don't teach Santa. But, like I said, we're not Anti-Santa either. And since it truly is quintessential Americana to sit on Santa's lap and tell him you want a new Barbie or Red Rider BB gun, that's just what we did today.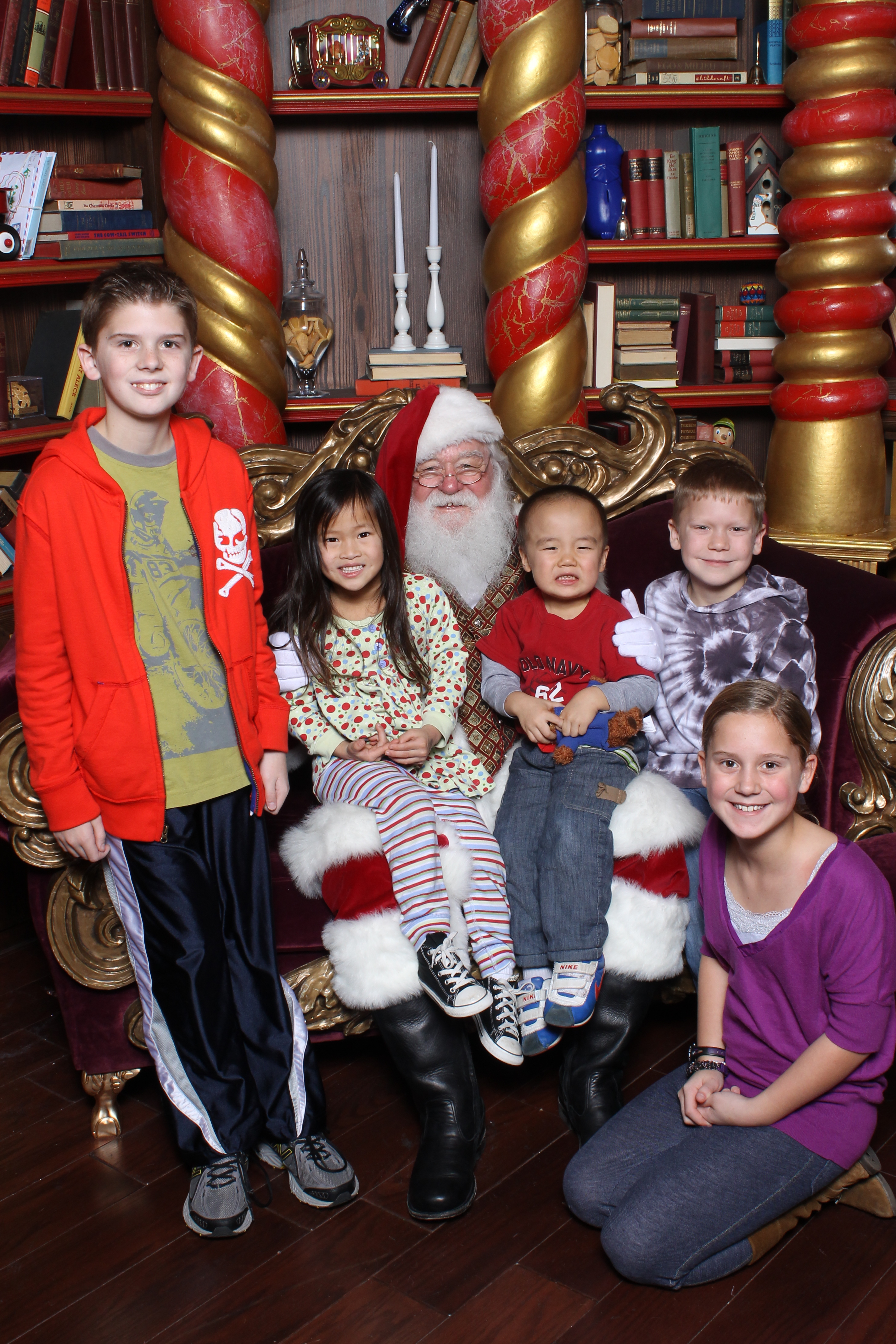 I promise you that face he's got is a smile, promise.
What we took our friends Helen and Caleb too though was nothing like I remember with the little house with a plush chair with a Santa with a white cotton candy beard. Where we went in Cherry Hill, NJ was called Dreamworks Adventure to Santa with good reason. Let's just say that Santa must be very good friends with Tim Cook and other technology giants. We designed our own sleighs on iPads and took a virtual sleigh ride to the North Pole that had all sorts of fun special effects. In fact, Helen grabbed my arm and shielded her face and Caleb loudly asked his mom in Mandarin for his coat because it was snowing (in the center of the mall, mind you). After all that technical fan fare, seeing Santa seemed somewhat…well…anticlimactic. Sorry, Santa. What do you expect with iPads and touch screens and all sorts of North Pole details everywhere?
Wonder if the Easter Bunny will have a set up that even comes close to this one. If he does, we'll be there. And, we should have a new little girlie in town by then…who won't care a thing for the touch screens and special effects.
Mark is judging singing competitions in Baoding, China.
Unfortunately, the audience popular vote held way more weight than the American judges' votes because these girls rocked it and ended up losing to some other girls who were in 7th place before their friends had a say.
It's the nightmare before Christmas. She came home from school missing something—part of her hair.
My gasp first brought denial.
What do you mean what happened to my hair? Ummm…nothing?
But, it couldn't be denied. After years growing out those bangs from her last hair-cutting mishap, she has bangs again.
Eventually, her denials led to tears and a confession. She was at the table and there were scissors in an oval basket and she did three cuts. Yes, there was hair all over the floor. No, no one noticed.
Lydia, what were you thinking?!?!
I'm going to be in trouble.
Yup, good call. Too bad she thought that and proceeded with her three cuts.
My gut reaction was no screen time the next day because…well…that seems to always be my gut reaction. But, after sitting back a bit and letting the beautiful sounds of an elementary winter band concert jar my parenting wisdom into action, I decided that natural consequences may be more appropriate.
Good morning – just wanted to ask for some help from you guys. Since Lydia cut her own hair in class yesterday, we are no longer allowing her to use scissors without direct adult supervision until we can trust her again to use them in the right way. Can you please make sure this happens in class as well? I'm fairly certain she won't do it again, but this is the natural consequence I thought was appropriate (that and having to wear a hair clip everyday while we grow out her bangs…again).

Kelly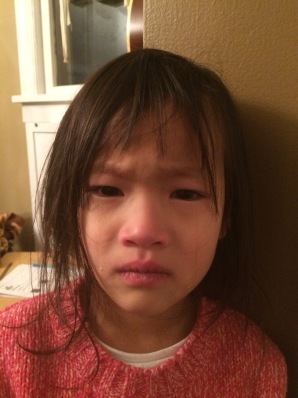 Yes, I actually pulled out my iPhone and took this picture to send to her father who is in China right now to answer his question, "How are things going?"