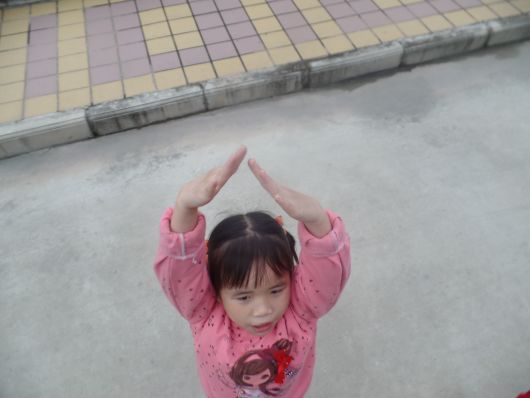 O Lord, Sovereign God, maker of all things, sustainer of life.
You know all things; nothing exists that you do not know.
You don't stop there. You don't just know all things; you are engaged with all things.
You are always present, always active, always working.
Lord, it was you who nudged me. It was you who stirred my spirit.
It was you who gently led me and fully provided.
It was you who picked me up and carried me across the world as your ambassador.
It was you who whispered encouragement in my ear and into my heart and upheld me.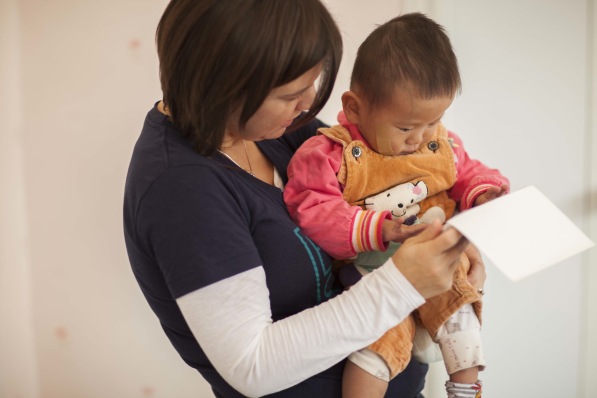 You said, "This is my servant. I am her God. I delight in her,"
proving yourself a faithful and gentle Father
not because of who I am but because of who you are.
Your song over me and your joy in me sustained me when my knees were weak and lifted my spirit when I was weary.
You led me on a path I did not know, a path I thought would bring your light to a dark place.
But, that path led me to you, father to the fatherless, companion to the lonely, the One true friend to the seeking.
You were already there, already at work, already drying tears and healing broken hearts.
You were already closing the gaps on tiny lips and in people's lives.
You don't need me to bring you there. You don't need me to be a savior.
I lay down before you knowing I am unable, aware of my frailty and my own need to be saved.
But, you lift me up and welcome me as your child to be a part my Father's work.
You invite me to love with my heart, head, and hands despite of myself.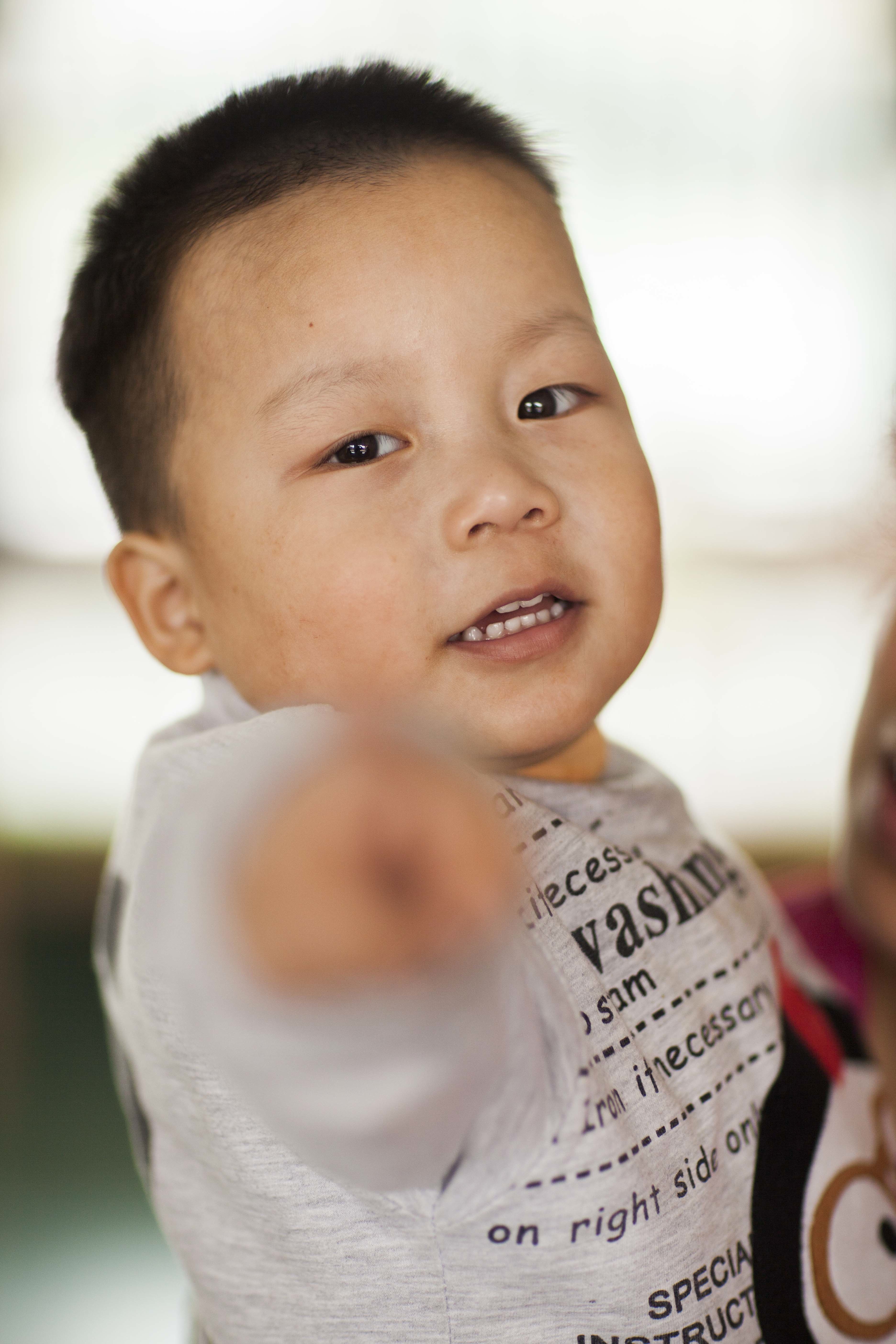 You are higher than the mountains, louder than the cries of humanity, bigger than the greatest walls man can build.
You show compassion to those without a family and those who grieve not cradling their children.
You guide the hands of even those who do not yet know you to do your work. You give glimpses of you.
How can I not know you more, crave you more, love you more?
O Lord, Sovereign God, maker of all things, sustainer of life.
You know all things; nothing exists that you do not know.
I humbly thank you for calling me, saving me, loving me, using me.
You are the only sovereign Lord, and I am your servant.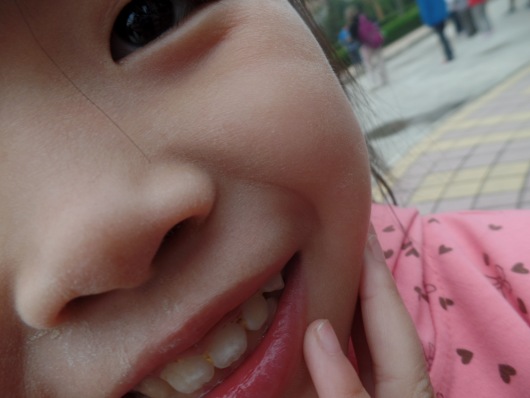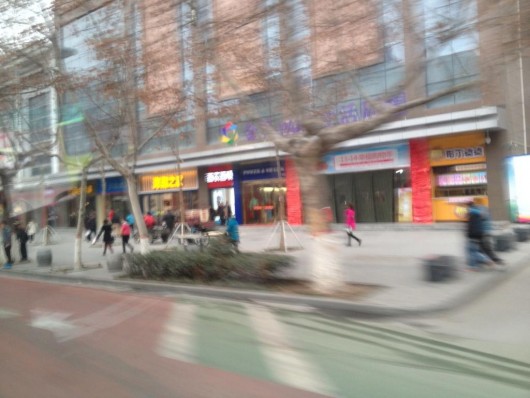 a version of this post was originally posted in March following the first trip I took to serve at the orphanage. This post is updated with new photos and slightly edited text. It seemed fitting to repost as I continue to process the experience of this last trip.
Because I've been asked this a few times in the last week, I'm devoting a bit of space here to answer it. It's a valid question; I am the first to say that "volunteering at an orphanage" simply doesn't cut it.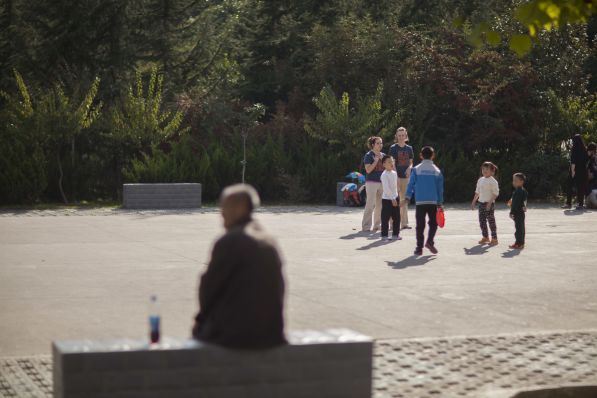 So, here's a bit of a skeletal answer for you.
We left the states on a Thursday and flew to China on a very long flight (14ish hours).
We arrived in Beijing on Friday evening to a hotel with the best coffee.
On Saturday, we visited the Great Wall and the pearl market to get some cultural experience, adjust to the time change, and spend some time together as a team before we start serving. Some team members tried to host a bowling tournament that night; only the two of them showed up.
On Sunday, we returned to the Beijing airport and flew to Xian, the capital of Shaanxi (2 1/2 hour flight).
We were picked up by orphanage staff members in a van a wee bit too small for us and drove another 2 1/2 hours to where the orphanage is.
Every morning, we enjoyed a Chinese buffet breakfast at our hotel from about 7am-8am complete with noodles, steamed puns, and popcorn. We all became friends with the egg-cooking lady.
Every morning, at 8am, we spent time together in one of our rooms to prepare for the day.
At 8:30, the orphanage van picked us up at our hotel and drove us to the orphanage about 10-15 minutes away. We were always greeted at the door and given shoe covers and then ushered into a reception room for hot tea. After we sipped a bit, we divided up into our prearranged teams and went to our rooms of kids (we served in four different rooms organized by age from newborns through about four-ish. Each room had about 20 children.)
From 8:30-11am, team members rocked babies, played with children, and built friendships with the working staff sans an interpreter…which is awesome. As the leader, I rotated around, spent a lot of time with officials, and pulled our team members with medical backgrounds to assess particular kids, etc. with the interpreter…which was awesome.
At 11am, we gathered again as a team in the reception room and then walked over to a room in another building where the orphanage served us lunch (which was fantastic food).
After lunch, at about 11:45, the van returned us to our hotel for a lunch break (why are we basically the only country where siestas aren't the norm? Geesh.).
At 2pm, we returned to the orphanage where we were always greeted at the door and given shoe covers and then ushered into a reception room for hot tea (you may be seeing a pattern here). The room teams would go back to where they were serving for the afternoon.
At 4pm, we would all gather again and join a group of eager older kids ranging in age from 8-12 who were a part of the photography workshop we offered for the first time, thanks to the incredible photographer and personal friend Ben Leaman and his wife Abbey. (Another post forthcoming to explain the photography workshop in more detail, but I will tell you now that it was incredible.)
After the photography workshop, we would leave the orphanage around 5pm and return to the hotel where we would drop off our things and then head out for dinner which was always an adventure.
Every night after dinner, we would spend a bit of intentional time together as a team.
Team members would promptly collapse…except for Ben who spent about an hour and a half every night editing photos for the photography workshop.
When the week was over, we spent basically one afternoon in Xian and one evening in a glorious hotel with a shower that I wish I could have packed in my suitcase to take home with me.
On Sunday, the team tearfully flew back to Beijing and then changed terminals to fly home. A few of us spent a few extra days there, but most everyone flew home then, 10 days after arriving and wondering if they would ever be the same.
Those are the summed up logistics, the entire trip in a little post in finite words with a whole lot of inherent gaps called "volunteering at an orphanage."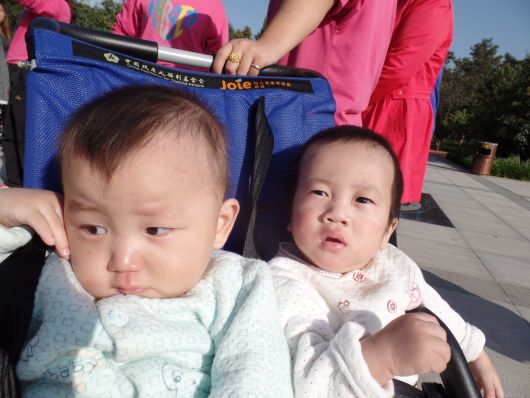 I'm a new woman today.
6 days post China and I finally feel myself again. 10 hours of uninterrupted sleep last night may have something to do with it. I woke up ready to jump up, open my curtains wide, and sing The Sound of Music or some Chinese equivalent. But, saying that I'm "feeling myself again" and finally getting back to "real life" just doesn't seem totally fitting. I've been to China a few times now. And, I'll be going there a few more times. And, every time I go, I feel like I come back changed. I can't help but come back changed because while I'm there I encounter Him and experience the world in a way that demands a response, demands a change within me. I can't come home and put my best pictures into a photo album that sits on our coffee table for guests to admire. I didn't go to China to take neat pictures of a fog-covered Great Wall and meet cute kids.
I went to China to be a part of His story by entering into their story and allowing them to be a part of my own.
We blew a lot of bubbles and drew a lot of chalk sunshines.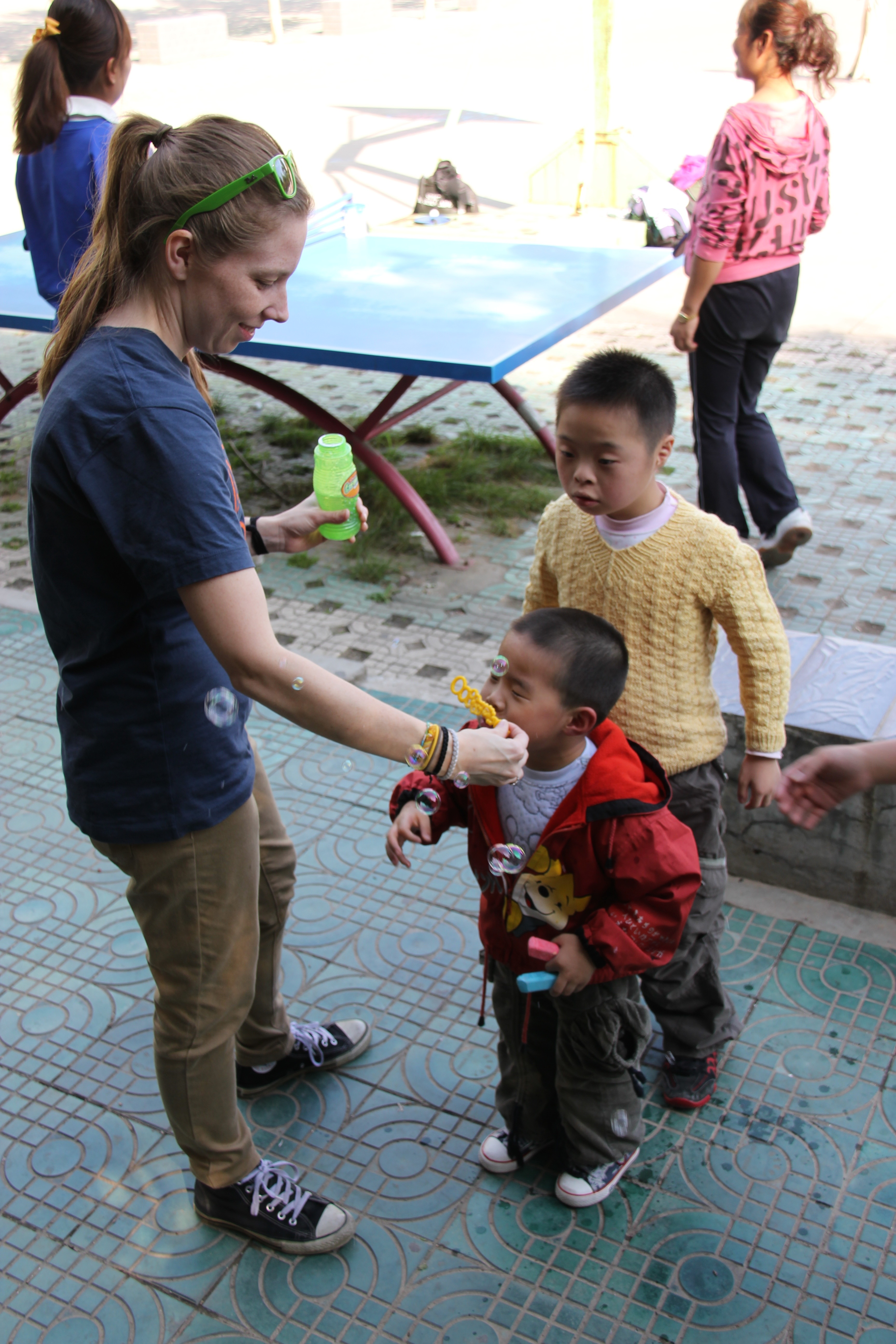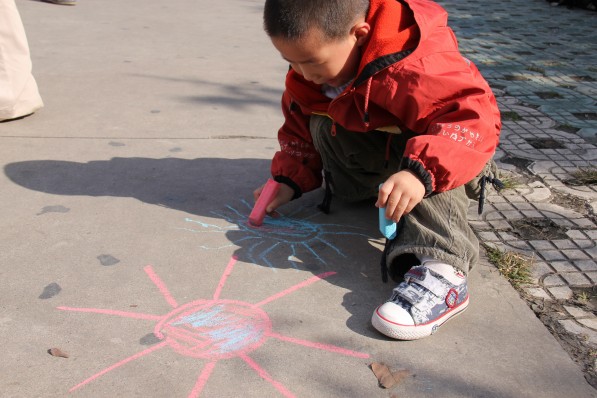 We watched some serious dancing.
I played musical chairs…and lost.
We rocked babies and prayed a lot of blessings.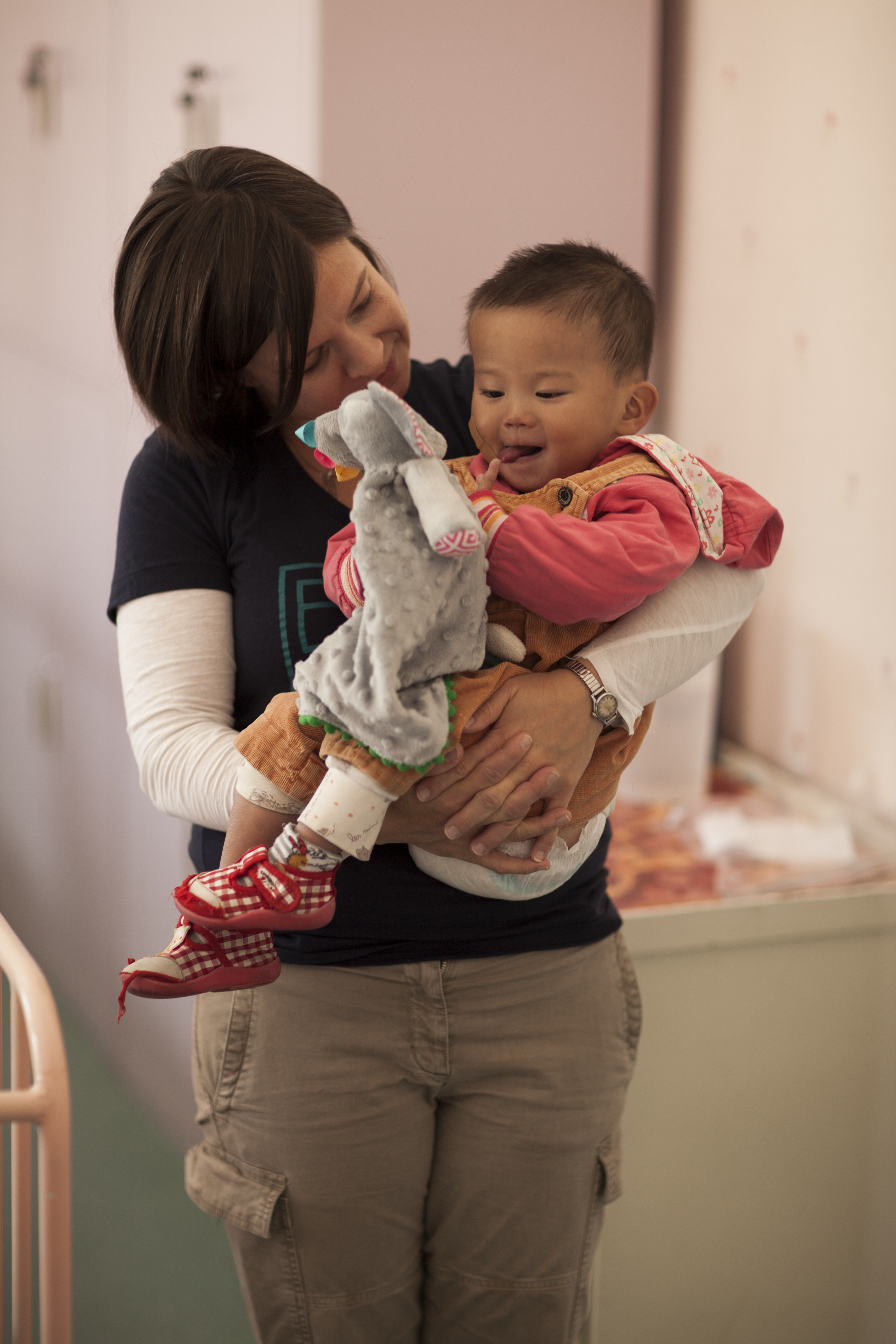 We told children who know they are different that they were beautiful.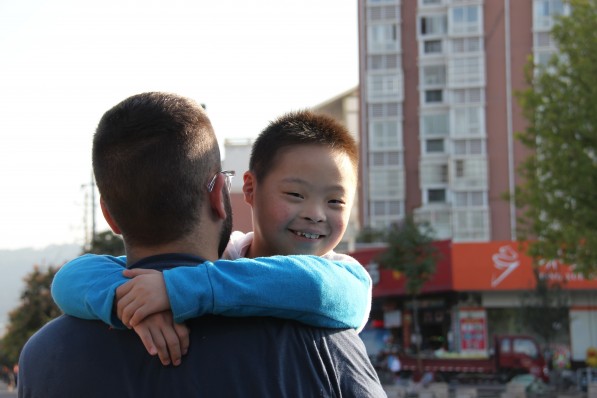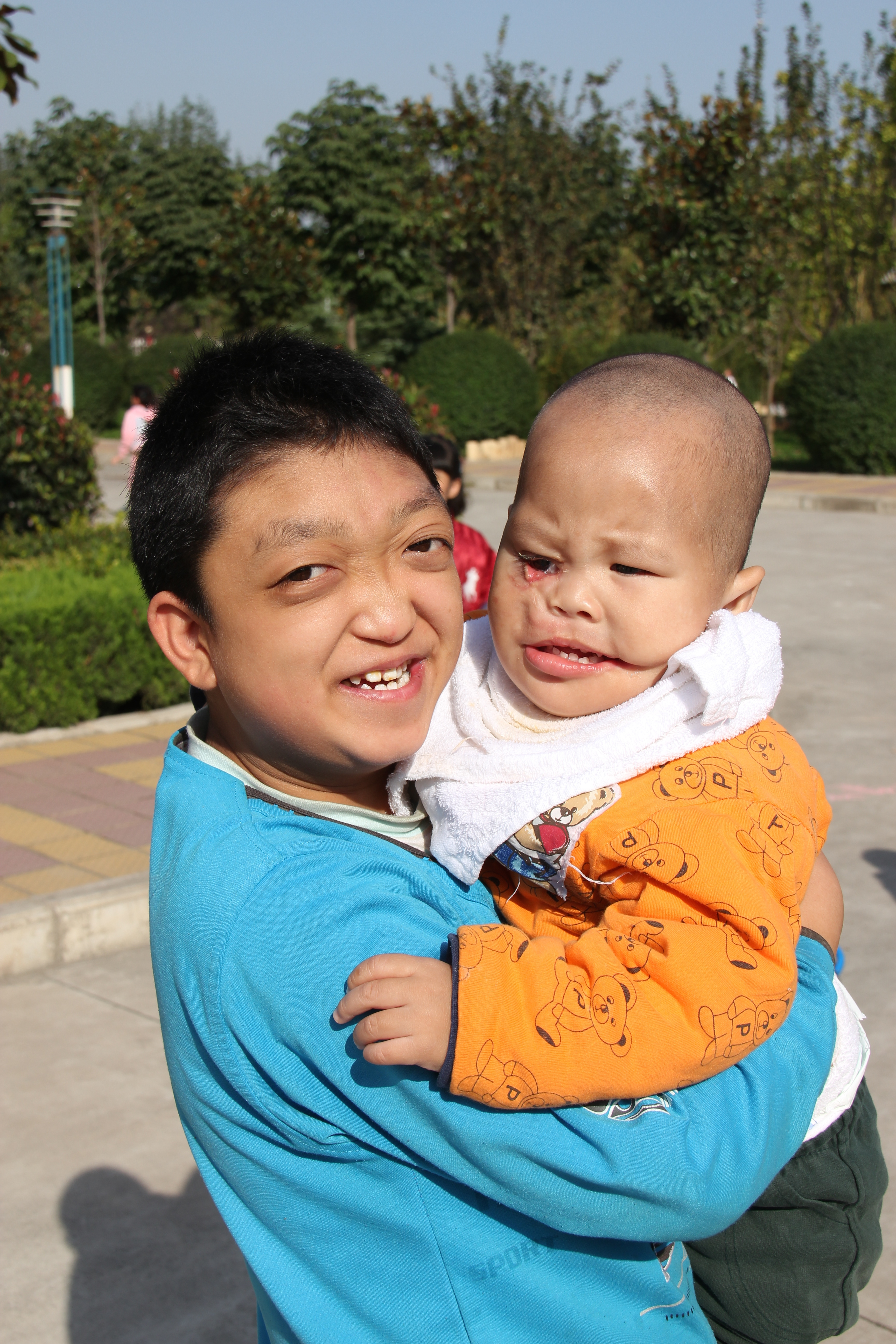 Above else, we built relationships. We gave our hearts away. We fell in love…with them…with the ones He loves…with those He has called to care for them…with the One who made all things who we see more clearly and understand more deeply because He allowed us to see a glimpse of Him there.
Today marks 6 days after coming home from China, and I'm feeling myself not again but for today, right where He wants me to be, knowing that our God is sovereign over all things everywhere and that He is for the fatherless, that He is close to the brokenhearted, and that He redeems all things.
I'm feeling myself now.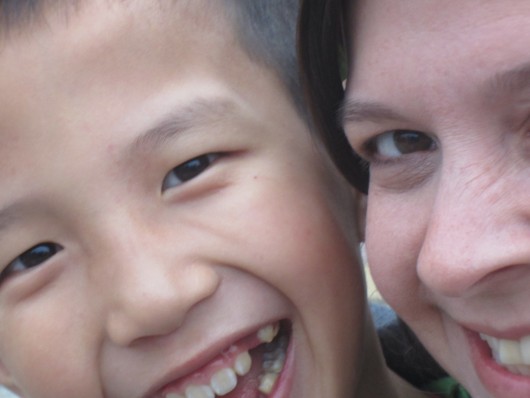 Two boys in China right now. Separated by many miles and many years. Both of their stories are only known to me in pieces, in a few words shared by the oldest boy's teacher and in a few smiles with the sweetest little chicklet teeth from the other.
As I lay awake, trying to convince my body that it's 2am instead of 2pm, I am left to wonder what other pieces of their stories may be.
_____________________________________________
One blue carry-on bag with wheels was all he brought with him when he left home and boarded a slow train that would take him hours from home to the front door of his university education. He had studied hard, harder than his peers, all through middle school. Play is a distant memory from his youth as if this young adult is already well into adulthood and only able to remember images of yesteryear. It was all for this moment—the head nod of goodbye from his stoic father and the quick glances from his mother as she hid moisture in her eyes and squinted in the brightness of the day. He was a university student now, and one committed to do well, to prove himself, to be successful though he wasn't sure what that even meant yet. Whatever it was, he was determined to understand it and bring honor to his family.
You may not notice at first that Xiao Cheng is different in any way. He hides it well, holding his hand behind his back while in conversation and never resting it on his desk. With fingers missing above his knuckles on one hand, even if you saw it, you may just think his fingers were folded under in a somewhat odd but acceptable position. While others are not always aware of his "shameful disfigurement," Xiao Cheng never forgets it.
"My hand is a scar on my parents' hearts," a scar he carries with him like a scarlet letter on his chest that has shaped his quiet spirit over his life. He is overwhelmed by worry, not sadness, just worry. He's made it this far, but can he do enough to prove to his parents that he was worth the sacrifice they made to keep him, worth the shame he brought on their family. He wants to be a full son and wonders if good test scores will overcome his handicap. The pressure is intense, but he is fully present in it.
_____________________________________________
Somewhere in central China, there were parents who couldn't bear the scar on their hearts, parents who desired the child they created together but whose families looked on him in disgust when they unwrapped him and saw his hand. They didn't have to tell them it was bad luck to have a son with two thumbs; they knew it was. And, though his sweet smelling skin and tiny-pursed lips spoke otherwise, they knew they would have to try again for a full son. He couldn't be the one the family needed. The baby's father knew one of his cousins had had to do something similar; no one had asked her and her husband any questions about it. She had been pregnant one day and empty armed another. Now, it was his turn to bundle his child in a fuzzy blanket with bears that would have kept him warm between them at night and do the right thing, keep his family from disgrace, and give them another chance. While her breasts burned with milk filling them that had nowhere to go, he took their child and came home alone with a stoicism she had never seen before. No questions were asked; and life went on.
_____________________________________________
Two boys in China. One striving to make himself into something, to make his parents proud, and to create a future, and one who doesn't know a family beyond the coos and cuddles of doting ayis who are preparing him for his future, knowing it will be somewhere faraway from here.