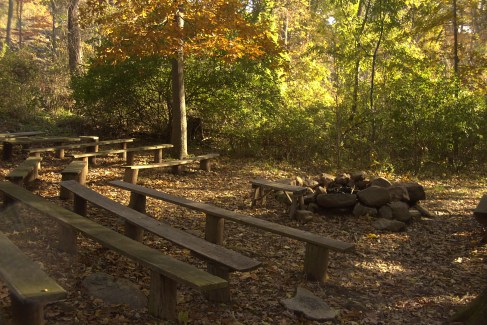 It's amazing outside today. The trees are so colorful, and the air is simply quintessential Fall. It's the perfect afternoon to sip on a hot decaf coffee (which I'm presently doing), and the perfect afternoon for our men to head out to recharge.
I've had very little to do with the whole plan for the next 3 days really. Last winter, Mark approached me at my desk and announced that he and his buddy Matt had decided to do a men's retreat. I was kinda shocked given that I'm usually the one to make crazy statements like that (which in the past have led to hosting a marriage retreat or something like another child, just for two examples). These guys championed this whole darn thing including choosing the menu and booking a ropes course 40 feet up in the air. All I did was help to promote it a little–okay, Matt's wife Wanda and I may or may not have also gathered a few goodies for each guy and s'more supplies.
It's 2pm now, and I've already gotten a text from Matt with a picture of all the name tags and swag bags set up, seemingly bragging that they were able to get it done without any help from the ladies. I'm told that by 4pm, Matt, Mark, and Zach, who got roped into this whole deal, will be standing next to all those goodies ready to welcome the rest of the dudes. I'm smiling just imagining the scene sans the social girls by their sides. They'll eat dinner together tonight and then meet for the first of four gathering times over the next three days where they will hear truth, be challenged, and encourage each other.
I have no idea what it will look like. I guarantee that it won't look the way our marriage retreat looks or the way a women's retreat would look or the way I WOULD want it to look if I were running this thing. But, I'm not. They are. And, that is such a good thing. Because, you know what? It really doesn't matter what it looks like; what matters is that there are 23 men on their way out now or heading out soon who are gathering together, all sharing the desire to grow and do what they've been called to do more fully, as healed, whole, and holy men. It's pretty overwhelming to think about.
Would you join me in praying for each one of these guys–Matt, Zach, and Mark included–that God would meet each one of them wherever they are as they arrive tonight, that they'd know more deeply God's love for them, and that God would use these next 3 days to recharge them to be the men, husbands, and fathers that He wants them to be.