We heard him talk more and more about the China trip as it got closer. Most of the talk carried excitement as he anticipated missing 2 weeks of school to climb the Great Wall and play with Caleb and Grace 2 years after they lived in our home. But, in between all the words, we knew there was some anxiety, seemingly focused on feeling bored on a very long plane ride, mystery foods, and teaching.
Ashlyn served as his consultant, advising him about everything from what dishes he should order for himself in the school cafeteria to how to pace himself on the Great Wall. At one point, I heard him asking her about what we'd do first when we arrived to the Beijing airport. She answered: "All you need to do is follow Daddy. He knows everything."
We knew he'd love it. I'd say I was more certain of it when the first thing he did upon arrival (after nearly 24 hours of travel and before we boarded a bus for 4 more hours) was order himself a burger, coke, and fries from McDonalds in Chinese. This kid. Even still, I anticipated that he wouldn't do it all. The schedule for our 18 member team wasn't easy. We met early in the morning, taught for hours, spent time with students walking around campus or a nearby park, hosted Conversation Corners where we were surrounded by students anxious to practice their oral English skills, held events every night that required a good bit of energy to lead large groups in singing "My Heart Goes On," "Shake it Off," and the like, and then met as a team again.
Maybe he'd skip out of the morning meetings or Conversation Corners–surely, he'd tire of answering 100x what his favorite Chinese foods are. And, teaching, yeah, I wouldn't force it. Four hours straight on our feet, enunciating clearly, being 100% on…it's hard. And, it was. But, he didn't want out of one thing. In fact, he was full in.
To Grace and Caleb, he was Drew gē gē, jumping right back into that big brother role as if they hadn't spent 2 years apart.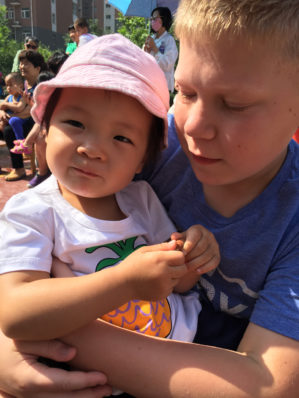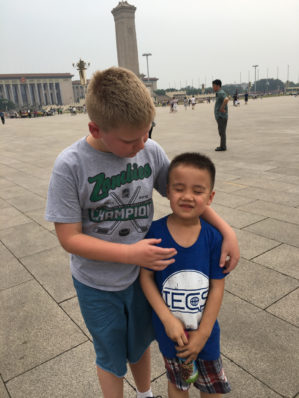 To our Chinese friends and to our team, he was Drew dì dì, the cute little brother who could pal right around with them.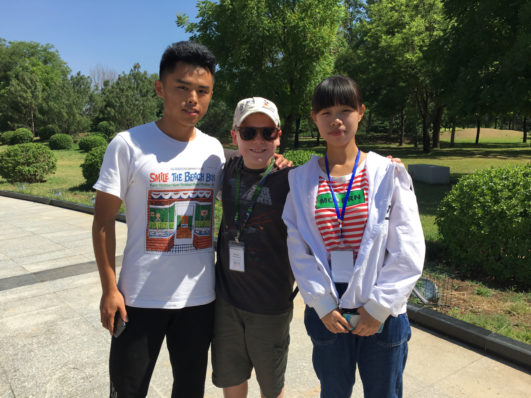 And, in the classroom, he was Drew lǎo shī, unafraid of being up front, comfortable following the curriculum, not only willing but eager. He was so natural that when someone asked a few of our students which foreign teachers were in their class that day, they answered, "Drew and his family."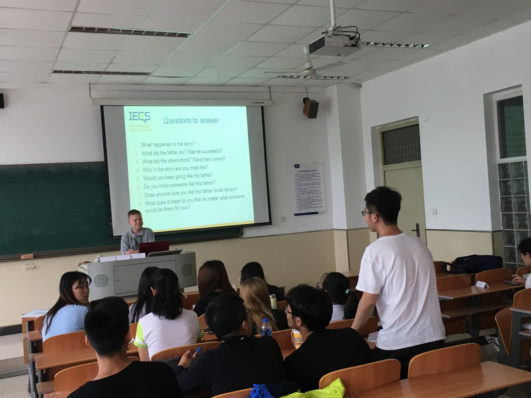 By Day 3, he was asking when he could come back again and why English Week was not English Month. He also informed us that he figured out what he wants to do when he grows up.